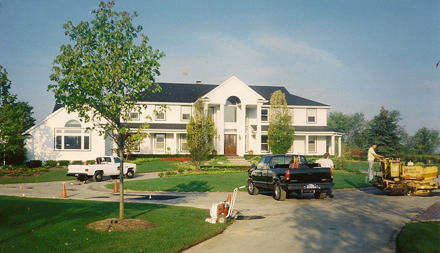 New Construction
We work closely with you and your contractor to make sure our portion of the project is completed on time. Your building plans are followed precisely, and you get exactly what you want.

Driveways
The secret to a long-lasting driveway is a well-constructed gravel base that lays beneath the asphalt itself. This ensures that your driveway will be in top shape for years to come, despite the traffic that it endures.

Parking Lots
We will construct a solid base for your parking lot, whether it will bear car and light truck loads or significant truck traffic. We will also construct a lot that is smooth, pedestrian friendly, and easily maintainable.

Walkways and Bike Paths
Like parking lots and driveways, we give our walkways and bike paths a solid foundation of crushed gravel to enhance pedestrian safety and comfort, as well as ease of maintenance.


Curbing
With a strong, consistent shape, asphalt curbs offer a pleasing aesthetic in addition to helping to control excess water or erosion. They may also be used to define perimeters of parking lots, roads, and driveways.

Sealcoat
Sealcoats serve to seal the top of the asphalt, preventing water from penetrating the surface of the pavement and protecting the top layer of asphalt from oxidation and the wear caused by exposure to the sun and air. Sealcoats also beautify the pavement by providing a smooth, black, even surface ideal for painting lines and sweeping.

Striping
Professional line striping assists visitors in the safe use of your parking lot. It directs traffic to the proper route of entrance and exit, allowable areas to park, loading zones, crosswalks, and defines drive aisles wide enough to avoid accidents. Properly designed parking spaces also maximize the number of cars that can be safely accommodated.

Paving
Not only does asphalt have the lowest initial cost when compared to alternative pavement products, but its life cycle costs are also lower. Asphalt is one of the most versatile paving products, and the quietest.

See more of the services Everlast offers.

Call Everlast Asphalt at 734-459-2560 for all your residential and commercial asphalt needs, including new residential and commercial construction, and existing asphalt repair.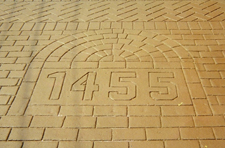 Asphalt is not just a smooth, black surface anymore. Using a stamped asphalt process, colors, patterns and designs can be added that can make your driveway or walkway a decorative complement to your home and landscape.
Our crew will stamp a template pattern into freshly placed or reheated asphalt. Once the pattern is set, a protective sealer is applied to enhance the safety and resilience of the paved surface.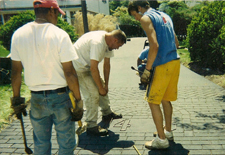 Stamped asphalt comes in a number of different colors and patterns and may even incorporate signs or corporate logos.
Please call us at 734-459-2560 for more information about asphalt design for your home or business.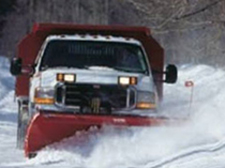 Everlast Asphalt provides complete snow removal services for homes, businesses, and more, including snow plowing, snow hauling, de-icing, ice control, shoveling, sidewalk clearing, and maintenance.