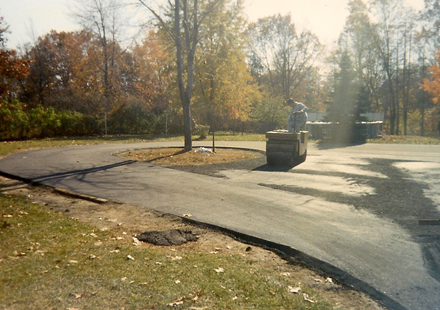 Patching and Cold Patch
It is much more cost effective to patch than to replace your whole driveway. Patching calls for an asphalt glue to be added to the patch area and hot asphalt to be applied directly on top of the pre-existing asphalt surface. Cold patch can be applied under all weather conditions and has superior adhesion to wet or dry surfaces.

Crack Fill
While a number of home improvement stores offer quick, do-it-yourself crack repair kits, this is a job that we can perform more effectively using specialized equipment to prepare the cracks and a higher quality product to produce a better, longer-lasting, finished result.

Resurfacing
Asphalt resurfacing is a practical and economical way to salvage, strengthen, and extend the life of pavements. It can strengthen existing pavement, reduce maintenance, and even extend service life.

Remove and Replace
Deterioration of asphalt is a result of a combination of elements: poor base, poor sub-base, inadequate asphalt thickness, poor maintenance, construction traffic, and Mother Nature can all play a significant role in the failure of your asphalt surface. The only solution may very well be complete removal and replacement of the asphalt surface.

Drain Repairs
When standing water is allowed to remain on the pavement, it can easily percolate through the asphalt (which is a porous pavement) and start to compromise the subgrade. Standing water that turns into ice poses an obvious liability issue. In either case, the situation needs to be corrected immediately.

All Repairs
Regardless of your asphalt problem, Everlast Asphalt has the experience, equipment, and staff to find an effective and economical solution. Call us at 734-459-2560 for more information.

See more of the services Everlast offers.

Maintaining Your Asphalt Surface
An asphalt driveway should be expected to last between fifteen and thirty years, depending upon the heat, cold, weather, and usage.

Asphalt is a sturdy material, but it will move and flex with seasonal freezing and thawing. Although it is durable, it can be marred by sharp objects or heavy weight.

As it ages, asphalt can become dry and brittle from the elements, and it becomes more vulnerable to cracking.

Properly maintained asphalt surfaces that have damage repaired immediately and are sealed regularly offer an extended period of usage.

Maintaining an asphalt surface is not difficult. Keeping it clean and free of things like oil drips, which can cause damage to the surface, is important.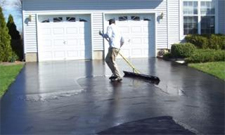 Broken or damaged areas should be checked regularly to see if they should be repaired.
Weeds and vegetation should be kept in check to prevent further cracking or heaving.

Sealcoating the driveway helps maintain elasticity and inhibits the drying process that causes asphalt to crack. It also helps protect the asphalt from chemical and oil spills.
Sealcoating the surface should be done not sooner than 30 days after paving, but before October 1, to allow for good adhesion because of the weather change. We suggest having additional sealcoat applied every two to four years depending on the use and weather conditions your project encounters.